A new roof is one of the biggest investments you'll ever make into your home. Lobo Roofing, LLC has the experience and knowledge necessary to put you at ease while you explore your options for a new home. With over 20 years of experience installing new roofs in the Tacoma and Seattle area, we offer free inspections and expertise you can count on. We're happy to walk you through every step of the process from inspection, to material choice, to finished roof.
Insured and licensed in Washington
Free Inspections and Competitive Pricing
Expert Advice for all Replacement Options
Quality Roofs and Workmanship Guarantee
Wide Range of Roofing Options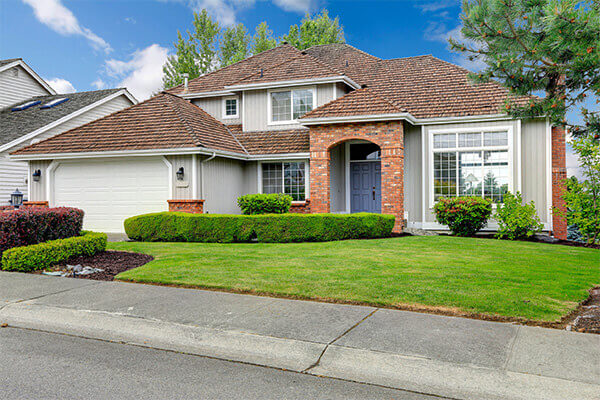 Roof Replacement Cost
While there are too many variables to put a general price on a roof, we will send our inspectors out to perform a free inspection and discuss all the options with you to put together a thorough estimate. The pricing for a new roof depends on a variety of factors including the square footage of the roof, the roof material, and how complex the roof is. Our experience and knowledge of local variables around the Puget Sound area means that we have the resources to help you determine the best roofing solution for your needs and budget. A properly installed roof that is suitable to the local climate will generally last up to 15 years with regular maintenance and inspections, acting as the first line of defense for your home the whole time.
Re-roof v Replace
While it may seem tempting to save up-front money by simply laying new shingles over the old roof, re-roofing is not typically recommended. If your shingles are old and need replaced, so does your roof deck. Once the old shingles are removed, our licensed roofing professionals will be able to identify areas of instability and damage to the roof deck that may have been previously hidden by the shingles. Not only is it best to replace the old roof decking, roofing materials and installation techniques change rapidly with new technologies, and building codes are continuously being updated. Re-roofing an old roof could leave the roof out of code and may not carry the same warranties as a full roof replacement.
If you've decided it's finally time to consider a new roof, Lobo Roofing can help you sort through all of your options. We will help you determine a budget and goals for your roof. From there we can help you determine the materials and installation that will fit into your goals for budget, function, and aesthetic. We'll work with you every step of the way to make sure your roof is exactly the way you want it.
Frequently Asked Roof Installation Questions
The pricing for new roofs depends primarily on the square footage of the roof surface, the type of material you choose (asphalt, metal, cedar shakes, tile, etc), and the complexity of your roof (dormers, steep angles, etc.) Because we've been installing new roofs in the Puget Sound area for so many years, we have the experience and resources to help you decide on a quality roof solution that will suit your budget.
Each shingle brand provides a different guideline for how long they expect their shingles to last. A properly installed roof will generally last up to 15 years with regular maintenance and inspection, especially after severe weather events.
While there could be some initial cost-saving in laying new shingles over an old, aged roof, we generally don't recommend re-roofing. Old shingles also mean an old roof deck. By tearing off the old shingles, our licensed roofing contractor will then be able to spot any areas of instability or damage to the roof deck that may have been hidden by the shingles. We can replace any sections where there may be wood rot. Roof installation techniques and materials have also changed over the last couple of decades, and your old roof may not be up to code. "Re-roof" jobs may also not carry the same warranties as a full replacement.
When you decide it's time to consider a new roof, consider first your budget and your goals. Metal roofs tend to last longer than asphalt shingles, but they cost more upfront and may not "fit in" with the neighborhood. Asphalt shingles are an affordable option, but even in that arena, there are choices that will determine the overall aesthetic and potential lifespan of the roof. Consulting a roofing contractor to help you make these choices is best. They'll have the experience to help guide you towards the best result.