Storm, Wind and Hail Damage Repair
Hail, heavy rain, and high winds can damage your roof, causing even more destruction to your home's interior.
Your roof is your home's first line of defense against severe weather; however, hail, heavy rain, high winds, and fallen trees can cause serious roof damage that results in water damage problems. Lobo Roofing, LLC is on call and ready to get started repairing your storm-damaged roof.
Storm Damage Restoration & Storm-Damaged Roof Repairs
Insured and Licensed in the State of Washington
Competitive Pricing for Quality Repairs
Rain or Shine Free Roof Inspections
24/7 Calls for Emergency Board-Up and Tarping
Repair Damage From Hail, Wind, or Rain
Insurance Claims Assistance
Call Lobo Roofing, LLC today for emergency roof tarping and board-up in the Tacoma and Seattle area.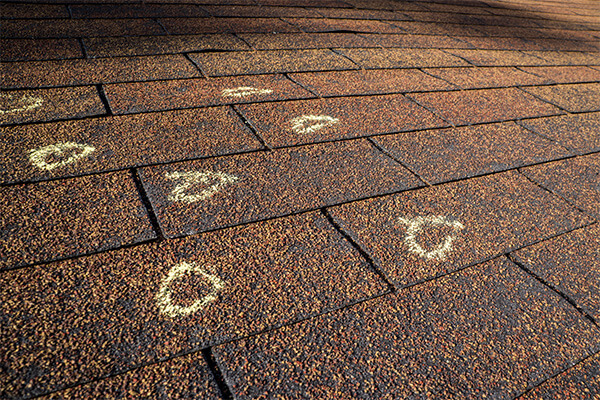 Frequently Asked Roof Tarping and Repair Questions
While it is very true that you can't just drape a tarp over a gap in the roof, tack down some nails and call it good enough, some form of fastener is required to secure the tarp while causing the least damage to the "healthy" areas of the roof. The owner of Lobo Roofing, LLC is a preferred contractor with most insurance companies in Washington, though, and our method for securing the tarp is always accepted and appreciated by insurance companies. We wrap the edges of the tarp around boards to pull it taught and then carefully screw the board itself into the roof deck or the underside of the eaves.
Generally, we'll wait for a break in the rain before climbing onto a roof when the rain is still sheeting due to the safety risk. One of the best benefits to choosing Lobo Roofing, LLC is that we live right here in Tacoma, WA, so we'll be watching the weather along with you. Just give us a call, and together we'll determine the best time to tarp your roof.
Absolutely not, but you should. Temporary roof tarping is generally covered by your homeowner's insurance policy, but choosing multiple contractors for the same claim may delay the process. Insurance companies refer their clients to us all the time, though, because they trust us to get the job done right at a reasonable price. We can be on our way to tarp your roof, and we'll come back and meet with your insurance adjuster to discuss our recommendations for the repairs. One-stop-shopping!
Yes! We can arrange for tree removal prior to roof tarping. We'll coordinate the entire project for you.
Probably not. Most attics lack the ventilation or air movement to draw moisture out. If your roof is leaking, there is probably some water damage as well.
They often go hand-in-hand, depending on the extent of the damage. If your roof deck was compromised by the impact of a heavy branch or tree, we'll install a plywood board over the gap before securing a tarp across the roof. Board-up is required whenever there is damage that reduces the structural integrity of your house until permanent repairs can be made. Roof tarping, on its own, is only meant to keep out rain or other weather from causing more damage. We'll know the best course of action when we get to your place for the free inspection.
Proudly Serving the Puget Sound Area with Top-Rated Roofing Services
Bellevue

Buckley

Everett

Federal Way

Graham

Kent

Kirkland

Lakewood

Marysville

Puyallup

Redmond

Renton

Roy

Seattle

Tacoma
Customer Reviews
I Had about 5 Quotes and Lobo Roofing came in second lowest with a lot of extras. most of the companies were two months out and Lobo Roofing Came in 2 Days! I totally recommend them! Very hard working and family business!
Cathy Sloan
Had Them Quote me For a Reroof after i had 4 other quotes. Lobo Roofing came and was super polite and respectful and told me what all was going to be done on the spot! Very competitive Price they gave me. I was going to get another 2 estimates but I'm truly glad I didn't! Lobo Roofing did the job and I couldn't be anymore happier!! Definitely Recommend them!!!!
Bret Martin
Had them recommended to me by my neighbors, Had them come out a couple days after there reroof to get a quote and they gave me a very reasonable price! they did the work a week after and I am very happy with the work they performed I 100% Recommend them
Michael Blake
Get a FREE, No Obligation Roof Repair Estimate for Your Wind, Hail or Storm Damaged Roof